19 Feb

VICTORIA + JUSTIN IN VICTORIA

GODDESS BY NATURE VICTORIA GOWN

How did you meet?

Justin and I met 8 years ago through friends and have been inseparable since.

When did you know they were the one? 

He's always been the one, his confidence, his smile, and his boyish laugh won me over years ago. We grew together as a couple and through our early 20s we learned so much about one another, how to live together, travel together and run a business.

Who proposed and how did it go down? 

Well I thought for sure after 7 years it would have happened on our America Holiday, but Justin had my ring made and it just wasn't ready in time so he proposed once we returned to Mackay. We were longboarding along the breakwater at the Harbour and he proposed by the water.

THE DRESS! How did you make your decision and what did you love most about getting your dress through GBN?

When I flew down to Brisbane to go wedding dress shopping I only booked 3 fittings as I didn't want to be overwhelmed by trying on so many dresses. My first fitting was with GBN and every dress was tailored to perfection, hugging my body perfectly and accentuating my curves. I was obsessed with two dresses, the shape of one and the material of another so Elaine mentioned that GBN does customized dresses and it is possible to create. Having this option gave me the opportunity to create a dress perfect for me, my body and my special day.

What was the wedding theme/style for your special day? 

I don't know exactly what we'd call it but it was a mixture of what we both wanted. We were married on private property by the beach, Justin loves the water! Our reception was on Justin's parent's property, roughly a 30-minute bus ride for our guests. They had a Greenhouse which we turned into an open marquee, painted it black, hung lights and I had a wooden chandelier made from Bali hung. Our coloring for the wedding was warm, dry and natural tones which absolutely went with our photo location superbly!

On your wedding day, what was the moment that made you cry the most / What was the moment that made you 

laugh

 the most?  

Any advice for future brides?

So many clients and friends told me to embrace and take in your walk down the aisle, acknowledge your guests and take your time. As soon as I locked eyes with Justin my heart was bursting – it was the most amazing feeling in the world. We wrote our own vows which were so personal and at that moment it was like no one was around us, that's when I had a slight tear. I honestly thought I'd be a sobbing mess all day but really it's happiness that you feel and those tears you thought you wouldn't be able to control are actually paired with smiles and laughter.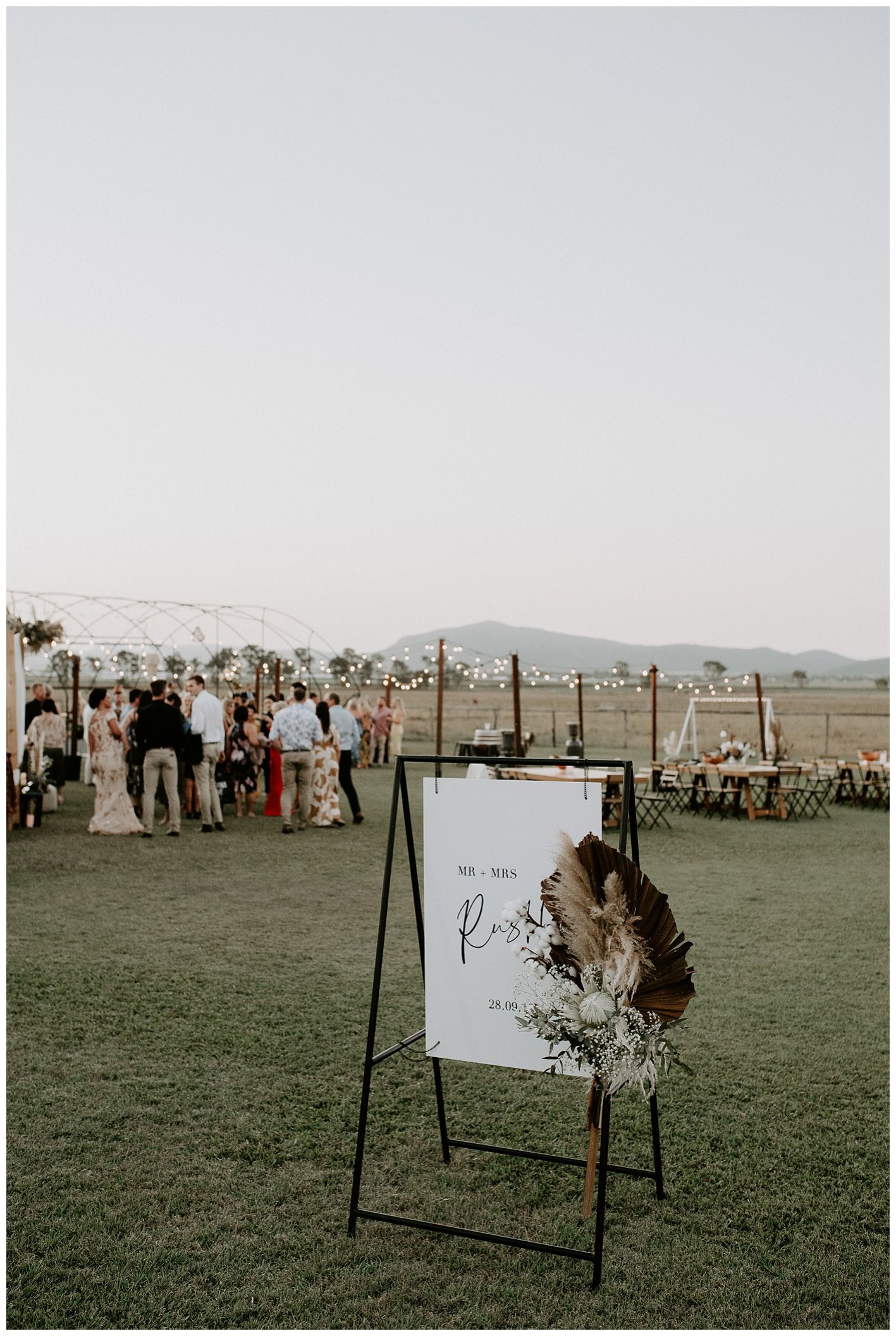 Vendor Credits:
Venue: Private property
Flowers: KMac Florals 
Wedding Stylist: The bride! 
Hair & Makeup Artist: Samantha Hayes Hair + Tiesha Willoughby Beauty
Bridesmaids Outfits: Lulus
Ring / Jewellery: Greg Neil Jeweller's Mackay
Suit: YD
Rentals: Starcut Flowers Mackay
Photographer: Whitefox Wedding Photography 
Dress: Goddess By Nature
Videographer: Filmed by Bolton